Commercial Services
Please call us at (239) 337-1300 or fill out the info. below.
Crowther Roof-A-Cide Treatment
Crowther Roof-A-Cide is a green product that will clean your roofing surface with no harmful corrosion to your building or surrounding foliage. It is harmless to the environment as well as your children and pets.
Crowther Roof-A-Cide is a revolutionary non-rinse stain preventative treatment that removes green and black algae, moss, mildew, fungus, and lichen stains from almost any roof surface. It also has been designed with preventative properties that help to repel re-growth.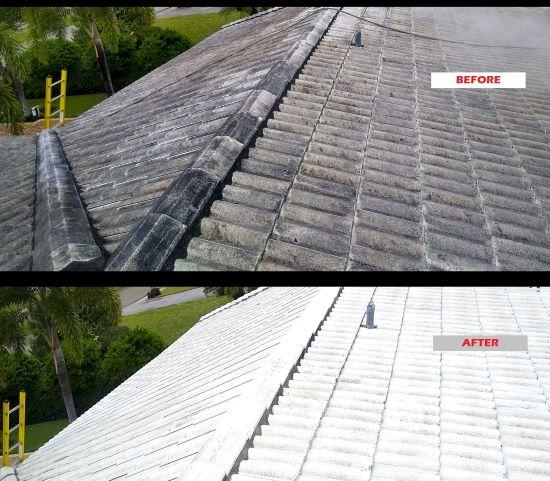 Roof-A-Cide Technicians
Crowther Roof-A-Cide representatives and technicians are professionally trained to walk your roofing surface while using our state-of-the-art equipment to provide you with results that are sure to exceed your expectations.
With 55+ years in the industry, we are recognized as experts when surveying the integrity of roofing systems and a pioneer in roof cleaning products. Crowther employees are cognizant of the requirements and limitations of each system and we safely and respectfully service your roof without compromising its integrity in any way and because we are a roofing company, we can repair any cracked tiles found on your roof.
Roof-A-Cide Promise
Crowther Roof-A-Cide has been specially designed to provide the cleanest and most efficient roofing surfaces without the negative effects on the environment that so many other products can cause.
Crowther Roof-A-Cide is biodegradable and will not decay nails, clips, metals, or vinyl. It uses environmentally friendly ingredients that are reliable and easy to use. It can be used to clean most roofing surfaces and is an ideal application for our Florida Weathered roofing system.
Roof-A-Cide Guaranteed Results
Roof-A-Cide is the only EPA-approved, non-toxic alternative to roof cleaning that's also approved by every major roof manufacturer of shingle, tile, and stone-coated steel roofs including CertainTeed, GAF, Boral, Monier LifeTile, US Tile, Gerard, Metro, and Entegra. Roof-A-Cide safely and cost-effectively prevents roof stains for years with each spray – eliminating the need for repeated roof cleaning and the potential damage associated with it. We even guarantee to 2 years with a manufacturer's warranty!
"One Application Needed Every Two Years - Deep Surface Penetration - Repels Regrowth."
Roofing's New Environmentally Friendly Roof Cleaning System