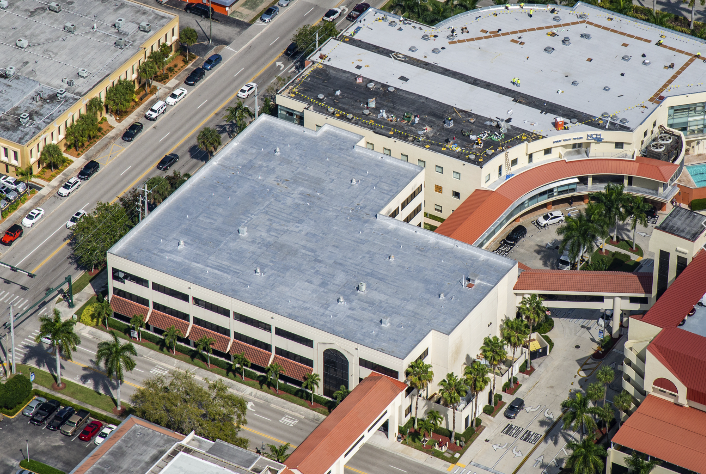 A Day in the Life of a Crowther Roofing Foreman
Whether a project is for new construction or a total re-roofing of an existing building, Crowther Roofing is the company of choice for flat/sloped roofing. With a fleet of more than 275 well-maintained service vehicles, Crowther has been a certified applicator for over 60 years for the industry's major roofing material manufacturers. Crowther is consistently ranked in the upper 1/10th of 1% of all contractors nationally for financial stability, and provides detailed estimates, Florida certified engineering, professional design and timely delivery. If you join us in our Operations Division you will have an interesting and exciting day
5:30 AM – Check team status board, acquire all materials, load equipment and ice.
6:00 – 7:00 AM – Travel to job-sites
7:00 AM – Inspect all materials delivered to the job site to ensure enough to complete the job. Provide instructions for the days job. Proficiency in all types of roofing systems and applications allows the Foreman to address every technical question and safety concern of the on-site team. While on job site ensure underlayment is screwed down effectively, Rhino Bond is properly applied, or a heat plate is used to secure TPO welded systems.
As Needed throughout the day – Train new Team Members to be Roofing Helpers, Apprentices or Journeymen. Each of these roles has specific skill-sets an employee must develop on the job.
3:30 PM – Return to Crowther Headquarters, and ensure things are ready for the following day. Fill out Material Request Sheets as part of planning for the next days' work (caulking, screws, rivets, and rags). Review shop drawings.
4:00 – Knock-off for the day.
As a Roofing Foreman, you will be a leader of the on-site Team, responsible for coordination with the Project Manager and Superintendent. If you don't want to sit behind desk or incur college debt, consider a career with Crowther! We start you off as a helper and train you to become a Foreman/Senior Foreman, and Superintendent.
To apply for a job at Crowther, send your resume to susans@crowther.net or report to Building 8, 2543 Rockfill Road, Ft. Myers 33916
About
Sharing updates and projects that we are working on in your community.
Topics
See What Others Are
Saying About US!